Monday, April 28, 2014
Hello! I hope this Monday is treating you well. I have a lovely to taking over things today and I'm seriously happy about it.
Meet Ashley! Lover of makeup, fur mama, blog designer, and the voice behind The Grits Blog! She just happens to be one of my favorites as well. I fired a few questions at her and here are her answers! Get to know her a little bit and definitely stop by her blog!
Where do you find inspiration?
I find inspiration where my life really began - Panacea. It's this magical little place where only locals go. There are dolphins, manatees, and marine life everywhere. Every time I go there this sense of peace and calmness comes over my whole body, mind, and spirit. Call it cliche - but it's true. It's my mecca - when I come home from there I have this whole new clarity. I say it's the place where my life began because where I met my husband, it's where I decided to go to FSU, it's where I decided that there are good things in life worth fighting for.
What are three things you absolutely can't live without?
Okay since Jen used the word "things" I am truly going to stick with things and not get all deep like I did in the first question.
My three things....gosh, there is just so much to choose between! But after much consideration I decided I can't live without chapstick, hair detangler, and
my naked palette
. As I mentioned in my post reviewing these items here, they are the bomb. Go read my
post
for all the details!
Tell us something we don't know about you!
I am an absolute nut about my dogs. Seriously, they are my babies and if you mess with them you mess with me.
How did you get into blogging?
I wanted to talk. Like a lot.
To be honest, I just wanted a place where I could talk about anything and everything my heart desired. Whether that be
makeup
, the latest and greatest
shampoo
, or my all time
favorite dip
. Also, I was driving my friends and family crazy with all the stuff I wanted to talk about ALLLLLL the time!
What do you do to stay creative?
See number one. BUT when I can't make it to my mecca - I get outside and work with my hands. Right now, my father-in-law and I are working on a garden together. To see it grow and turn into food brings such a cool joy. You can follow along the garden journey with me on my
instagram
!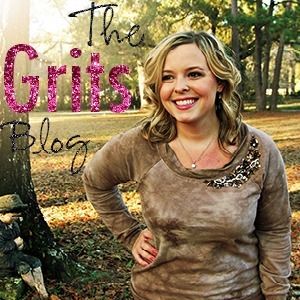 THE GRITS BLOG
|
BLOGLOVIN
|
FACEBOOK
|
TWITTER
|
PINTEREST
|
THE GRITS BLOG DESIGNS
______________________________________________________________________________________________
Check out this month's featured sponsor!